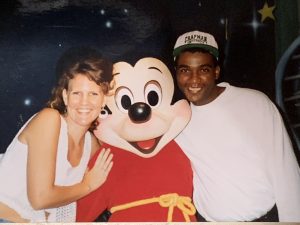 Al Day and Andee Zomerman met at California State University, Fresno in 1989 when Al gave false Disney information to a fellow student. Andee called him on it and they've been arguing Disney ever since. (Let it be noted a multi-day trivia contest declared Al a winner and Andee had to buy him dinner at The Blue Bayou.)
Alfred Day is lifelong fan of all things Disney, specifically the life and work of Walter Elias Disney. His favorite Disney movies are Mary Poppins (Live Action) and Pinocchio (Animated, although some days it's Sleeping Beauty). He is one of the founders of GeekEd, examining the intersection of Popular Culture and Student Affairs. He is a regular panelist at Comic-Con International and hopes to be a real boy someday!
Andee Zomerman began visiting Disneyland before she could walk. Her husband, Edd, proposed marriage after asking Mickey Mouse and Al for her hand in marriage. They have raised two Disney-nerd daughters, and after a year long exploration of the USA, still make Disney Parks the #1 vacation destination. Andee spends her working hours in a middle school library teaching kids the love of reading and her non-working hours in Disney chat rooms.